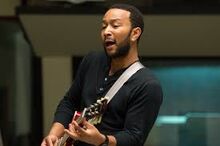 How are you gonna be a revolutionary if you're such a traditionalist? You hold onto the past, but jazz is about the future.
-Keith talking to Sebastian
Keith
is the singer of the band that
Sebastian
was temporarily in. Sebastian did not like him, for his odd approach to jazz.
He is portrayed by John Legend.